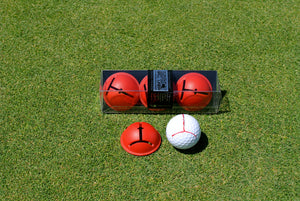 Impact Ball Liner
The Impact Ball Liner is the single greatest aid that you can actually take on the course!
Imagine the back of the ball was flat and perfectly aligned to the cup. Could you place the face of the putter squarely on the ball? Yes! The Ball Liner is a stencil that puts a line on the back of the ball to give you a "flat" target for your putter face. Short putts just got a lot easier.
When you are out on the course: Read your putt, mark your ball, squat down and aim the ball to the line you have chosen, remove your mark. Make your stroke focusing on nothing but the speed and matching the face to the back line of the ball.
Black EyeLine Golf permanent marker now included!
(Designed to work for both Right-Handed & Left-Handed Players)
Line up your ball to the target using the top line.
Focus your attention on the back line and address the ball with your putter face parallel to this back line.
Make a confident stroke delivering the putter face squarely to the back line and listen for the ball to drop.