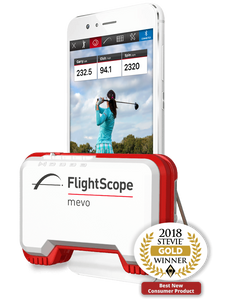 Flightscope - MEVO
What is mevo ?
Mevo is a 3D Doppler radar based launch monitor that can be used indoors and outdoors to help golfers improve their performance.
Automatic video clipping
Practice without interruption using the Mevo app on your phone or tablet to automatically record, clip, and save each video with data overlay.
Dial in your distances
Mevo provides real-time performance data to help you train and improve with every club in the bag on the range, on the course, and in your home.
Track progress over time
Your videos and data are captured and stored automatically, allowing you to review each session, share with your coach, and analyze your progress over time.
How mevo improves your game
Measure your numbers
Real-time performance data.
Evaluate your game
Save, upload and share practice sessions.
Visualize your improvement
Action video clips captured by phone with data overlay.
Optimize your performance
Automatic video clipping and storage.
1. Order your MEVO
Make the decision to practice with a purpose and start improving your game today. Order your mevo now! International shipping available
2. Download the Mevo Golf App
Download the free mobile app on your iOS or Android phone or tablet.
3. Start improving your game & having fun!
Use your mevo to improve your performance, have competitions with friends, track your progress and more.
The
 

mevo

 

mobile app

Our free mobile apps give you the ability to take your game to the next level when paired with a FlightScope mevo radar. The app features the ability to capture automated video on your phone or tablet, and provides real-time performance data during your practice sessions.

 

 
mevo

 

with FocusBand

Focusband and mevo are now integrated! FocusBand is a brainwave sensing system that's used to train the brain into a calmer state, which is essential for improved performance in any sport. Visual and audio feedback from FocusBand allows you to self-regulate your emotional levels and train your brain to enter an optimized state of mind with minimal effort.
Learn how to stay present
Practice an optimized state of mind
Instant feedback when you lose concentration
Visual and audio feedback
Self-regulate your emotions