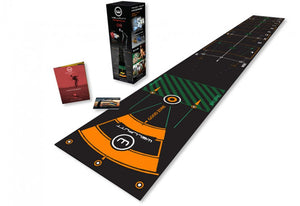 Wellputt Mat 4M Black

MAT IN BLACK! BEST VISIBILITY AND SUITABLE COLOR FOR MODERN INTERIORS.
Our designers have created a mat suitable for modern home interiors. Contrasts allow better visibility of the mapping areas.
Used by the world's top professional players, the Wellputt Mats are the most scientifically accurate in reproducing a real-life green. Their patented design & rolling speed have been tested by our engineers and coach Cameron McCormick to make you a putting expert.
Length : 13 ft
Width : 1.64 ft
Stimp meter speed : 10/11.5 ft (High Speed)
Weight : 4.3 lbs
Approved by Cameron McCormick
Aiming & speed control training
More than 50 practice exercises
Wellputt App for iOS & android